Boy Scout Projects in Pontiac and Lake Orion Teach About Giving Back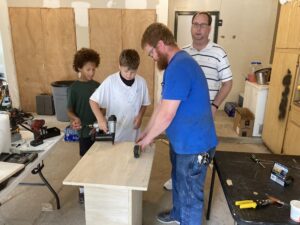 (Boy Scouts of America , Aug. 29, 2021)
Pontiac, Lake Orion, MI – Oakland County scouts are wrapping up the National Summer of Service, having helped dozens of local charities over the past few months.
An initiative introduced by Scouting's national office, the Summer of Service program aims to engage youth in service for the benefit of their communities. Several prospective Eagle Scouts have used the opportunity to satisfy the service requirement to earn Scouting's highest honor.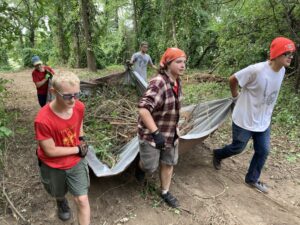 Casey Houlihan, 17, hopes to finish his project to clear an access road to the community chapel in Orion's Camp Agawam within the next few weekends.
"Providing cheerful service to one's community and family is one of the foundation blocks that the Boy Scouts of America teaches and lives by," Commissioner Lonny Johnson, who serves north Oakland County, said. "We include service in our rank requirements; we include service in our quality unit requirements."
Later in August, Jeffrey Ellingsworth, 16, of Troop 185 will begin construction on a playground at Grace Center of Hope in Pontiac.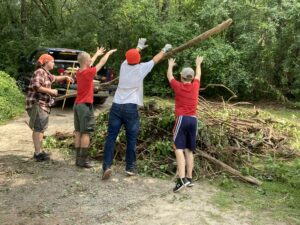 "Scouts will learn valuable skills such as civic responsibility, community awareness and project management, while also learning about the current needs of our fellow citizens," Christopher Hopkins, chief information officer of Michigan Crossroads Council, said.
According to Hopkins, the initiative builds on Scouting's legacy of serving others and strives to positively impact local neighborhoods and communities in the coming months.


"Participants can serve in a variety of ways, whether it be cleaning up their communities, organizing a food drive, or honoring fallen heroes," Hopkins said.
The Summer of Service initiative will conclude on October 31. The Pontiac-Manito District, which consists of approximately 1,000 scouts in Oakland County, has requested additional ideas for much-needed projects in the community.
Service opportunities should be forwarded to the district executive at brandon.kathman@scouting.org.