Pontiac State Hospital Patients Listed on New Memorial in Oak Hill Cemetery
(Oakland County Historical Society, July 25, 2020)
The monument to asylum patients at the historic Oak Hill Cemetery in Pontiac has recently been erected.

Our Historical Society joined the efforts of community activists to raise funds, conduct research, and spread the word. Many supported the cause with their attendance at the annual Oak Hill Cemetery Walk and with donations collected at our Pontiac Asylum talk last fall. Massive kudos are especially in order to our Board member Nancy Calendine for her coordination of efforts, and to Larry Keehn for his years of advocacy of Oak Hill's preservation.
This is the latest in a series of preservation projects at the centuries-old cemetery. Crumbling mausoleums have been rebuilt and restored to their original splendor. There are many more repairs needed, though; please contact us if you'd like to make a donation toward Oak Hill Cemetery's restoration.
On one side of the black granite memorial reads the names of those patients buried by the state over the decades, 283 in all. On the other side, it reads:
"Here interred are patients who died during care at the former Eastern Michigan Asylum, later called Pontiac State Hospital, and Clinton Valley Center, which operated in Pontiac from 1878 to 1997. Deceased patients not claimed by relatives or friends were interred in numbered burial plots that were cross referenced with patient's names by the hospital, with the expectation that some might eventually by claimed and moved to family sites elsewhere. Recognizing our shared humanity, those who remain are memorialized by this marker, dedicated in the year 2020, and placed by volunteers of the Oak Hill Cemetery Preservation Society, Better Pontiac Community Development Corporation and the Oakland County Pioneer and Historical Society with special recognition of Larry Keehn, Nancy Calendine, Sean Kammer, Mike McGuinness and Bruce Annett."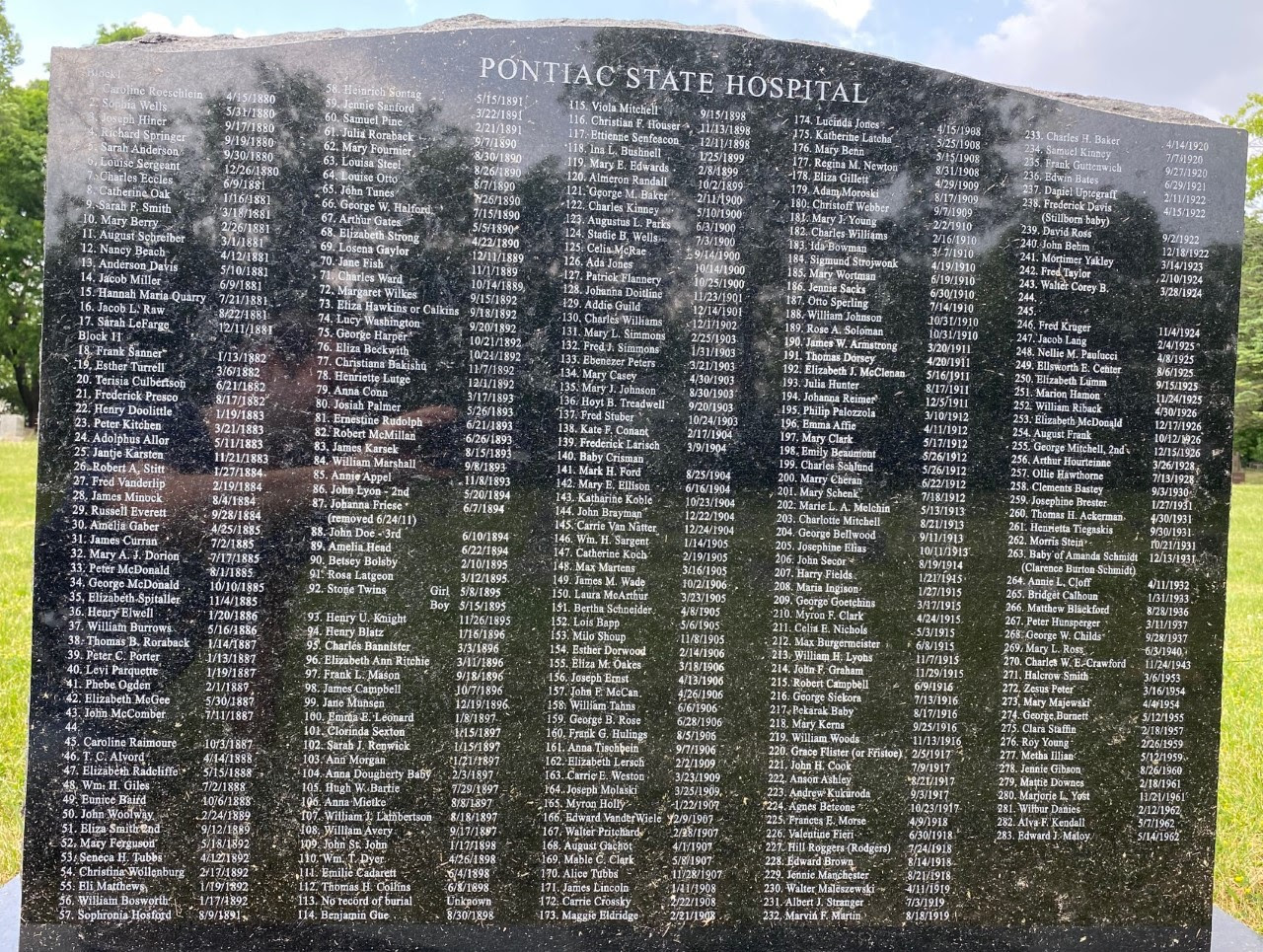 Some of the listed 283 deceased's names: Caroline Roeschlein, 1880. Nancy Beach, 1881. The Stone Twins, a boy and a girl, 1895. Harry Fields, 1915. Morris Stein, 1931. Baby Clarence Schmidt, 1931. Edward J. Maloy, 1962. Visit the Memorial or contact our Historical Society to view more.