A Year of i3 Detroit Awesomeness
(Guest Column by i3 President Matt Oehrlein, orig. at i3Detroit.org, republished with permission)
Makers, Hackers, and Creators,
We achieved so much in the last year. As 2013 comes to a close, I wanted to highlight a few things this extraordinary organization has accomplished.
We had an incredible amount of classes this year, ranging from Bob Ross paint-a-longs (thanks Kevin), highly-sought after welding classes (thank you Jody), kiln classes (thanks Terry), to laser training, (thanks Matt A., Roger, Devon, Andrew and others I am likely forgetting). A few years ago, using the laser cutter was nearly impossible because there were only a select few people that were trained on it. Today, it's one of the most used tools in the shop. That's real measurable progress towards increasing the skills of our members.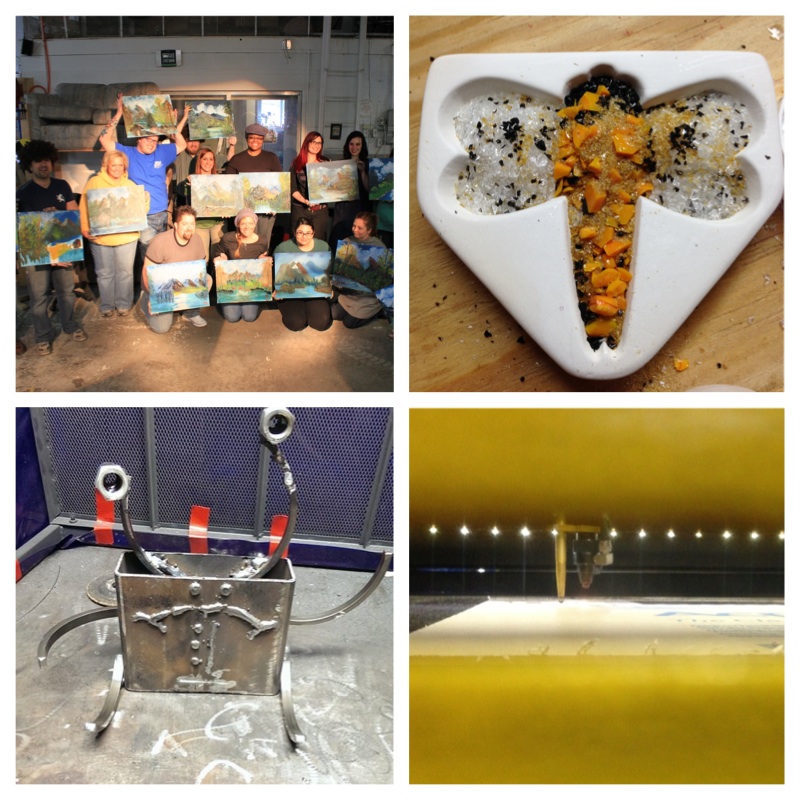 In addition to increasing our members, we've increased the number of tools available. They include the member-made
vacuum former (thank you Jon), a super safe table saw (thanks Greg), a new kiln zone with two new kilns (thank you Terry), a huge new CNC machine (thank you Brian, Allen, Jim), and a completely overhauled fab lab with new laser cutter and (nice) 3D printer (thank you Andrew, Matt G., Matt H., Nate). The craft room is home to an embroidery machine and is much better organized after Kevin spent weeks inventorying everything. Thank you to everyone who has stepped up in the last year to become zone wardens. Because of you all, we are better equipped than we have ever been, and it's never been a better time to be an i3 Detroit member.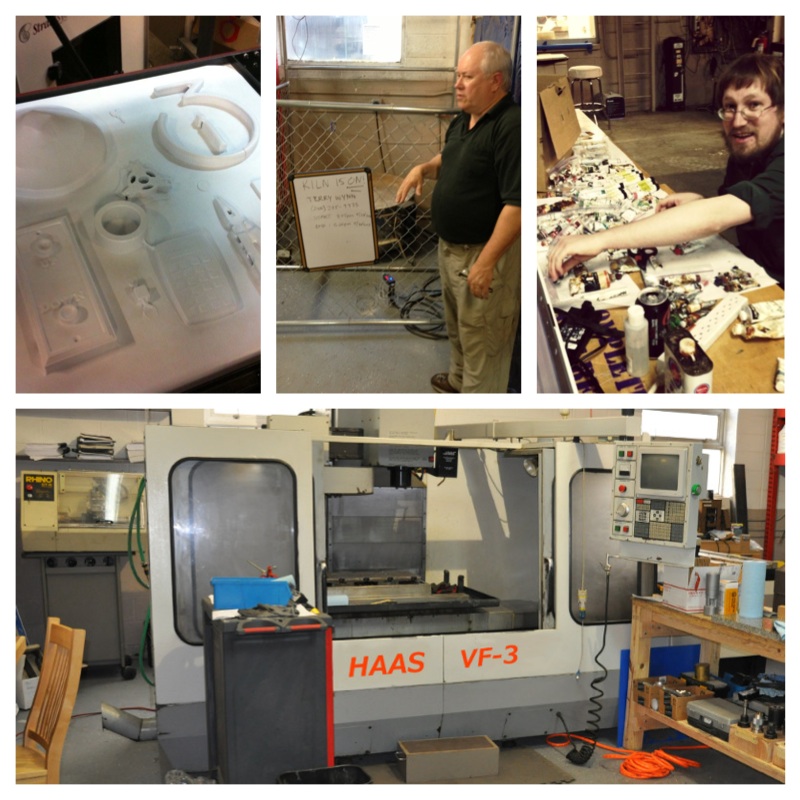 We qualified for finals in the Redbull Creation Challenge with the Rainbowtron (thanks Eric and team), went to NYC to compete, built the Whirly Turbulator, and took home team choice award along with a top-notch laser cutter. Redbull Creation in NYC has been a high point for me and my experience with i3. The energy was incredible, designing and building a contraption at a Brooklyn music festival. I feel like the luckiest person in the world to have been a part of it and then to walk up on stage with some of the most talented people I know (thank you Eric, Sean, Rocco, Marie, & home support team). I can't stop gushing.
Maker Faire was phenomenal. Our engagement with The Henry Ford is stronger than ever and they are always accommodating because they know we bring a great show. We had two teams compete in the power wheels race (thanks Karen, Matt H., Ted, Sean), which does such an amazing job showcasing all of the different little flavors each hackerspace has. We had a ton of big hits back at our tent, from the Lake in a box by Bacon and Roger, the revamped Whirly Turbulator (thanks Marie), Robot Fight Club (thanks Ted and Matt S.), the Rainbowtron (thanks Eric), to the Laminar Flow Fountain, one of our biggest team projects ever (too many to list, but thank you all).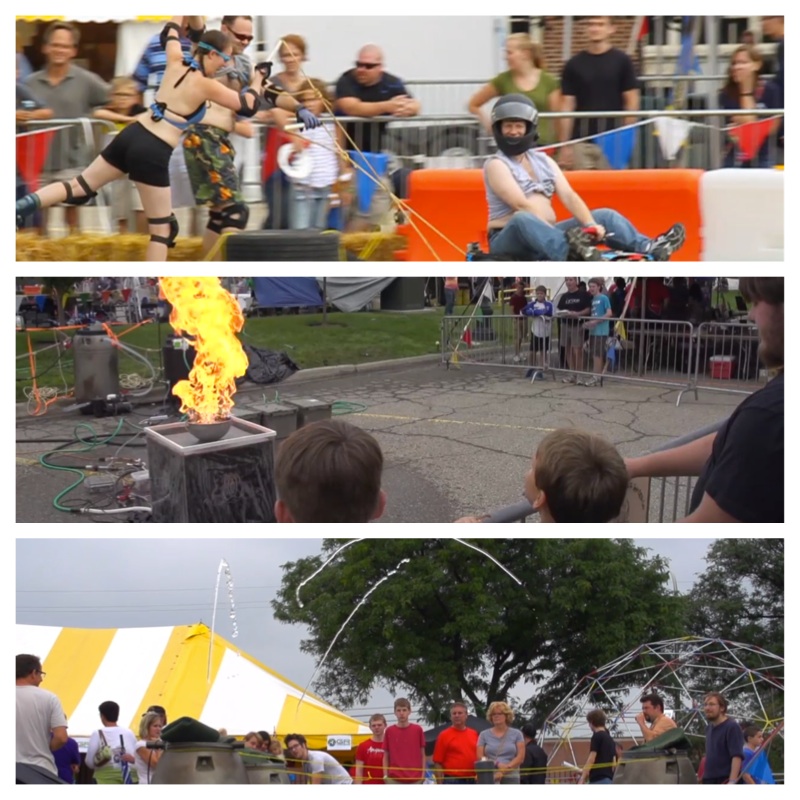 We were a stop on the Sparkfun National tour (thank you Roger). They taught a very thorough electronics class, and it was one of the most well attended in recent memory. The Verge, one of the worlds premiere tech and culture websites, did a feature video piece on us and highlighted some of our talented members. We also had another high quality video feature done for us by Dark Rye (thanks Nick). Ted and Matt S. gave a talk at Nerd Nite Detroit, and Scott coordinated an i3 Detroit booth at TEDx Detroit. These videos and events have generated a lot of buzz, tours, contacts for us, and showcase our organization as a highly capable, creative, and open minded collective. They push us towards being a more recognized and admired hackerspace.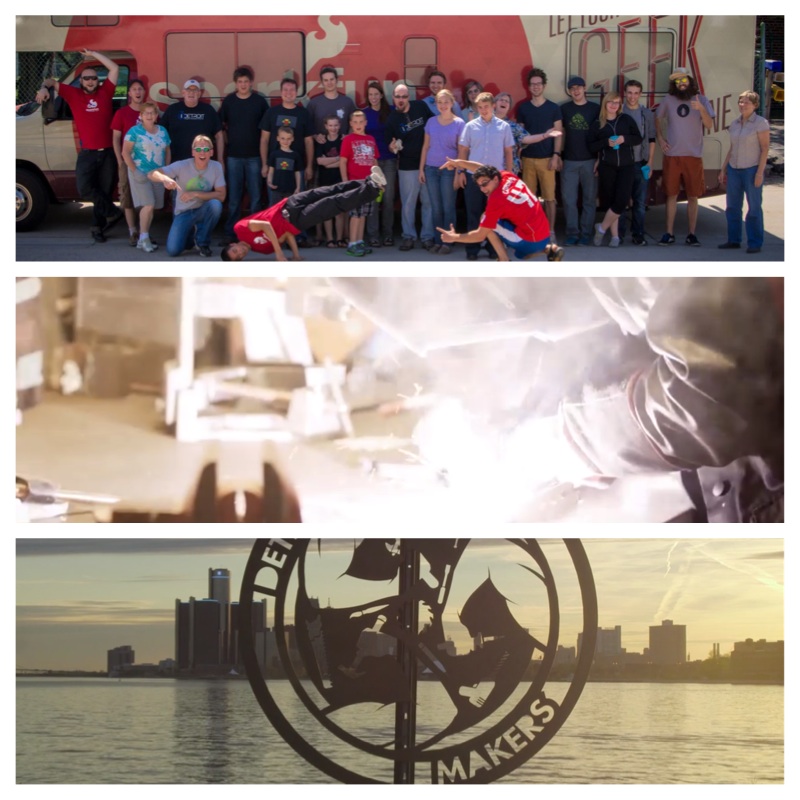 As amazing as 2013 was for us, we have a lot to look forward to in 2014. [Redacted for publication] is going to be in Detroit next
year. You can all be sure we will play a big part in it. We can look forward to another Detroit Maker Faire, and all of the festivities that go along with it. We also have ambitious goals to improve our reputation through web metrics. By September 1st, we are shooting for 7992 monthly i3detroit.org visitors, and 796 daily average Facebook reach. Physical space is going to be tight this year with so many new members and tools. One of our biggest challenges will be operating in a way that keeps the space clean and usable, but also doesn't hinder or dampen creative energy and output. Keeping open, honest, and friendly communication between members will go a long ways towards preventing policy and rules from being created in excess.
Thank you all for being a part of this big crazy experiment called a hackerspace. I can honestly say joining
i3 was one of the best decisions of my life. It's been an absolute joy working and growing with everyone. I've learned so much not only about how to build things, but how to get along with others, collaborate, compete, and work on a team. It's been an experience I wouldn't trade for anything.
To learn more about i3 Detroit, visit their website at http://www.i3detroit.com/.
For previous i3 stories, see:
https://oaklandcounty115.com/2013/08/06/i3-detroit-makes-a-splash-at-maker-faire-again-video/
https://oaklandcounty115.com/2012/08/27/what-is-i3-detroit-video/